"I Am T3"
Why wait for a sale when you can guarantee a discount anytime you shop?
Join the "I Am T3" discount club
Just show your discount card or button with every purchase to receive your discount!
The discount applies to all in-stock items except concessions and sealed card products. ALL OTHER ITEMS ARE INCLUDED - EVEN TCG SINGLES!
Fees for rentals, tournaments, etc. are not included and cannot be discounted. Membership fees can be paid with store credit, and membership discounts are applied to store-credit transactions!
Wear your button with pride to show the world that you, too, are T3!
Membership perks include:
card buy-listing
1 extra week on merchandise holds
members take priority during busy times (if maximum occupancy is reached, a member will always be seated before a non-member)
invitation-only events when they become available
a 3 day rental for the price of a 1 day rental on Sundays (because retail is closed on Mondays & Tuesdays)
and more! Here's another opportunity to tell us what else you think should be included in "more".
The membership quickly pays for itself if you:
Rent games
Buy roleplaying books
Buy crunchier board games
Buy a lot of single trading cards
Need another reason you should join?
If you renew your Diamond Tier membership quarterly, you only need to spend $150 a month to reach your break-even point. Spend more and you achieve a value victory! And we promise to never have a sale that is equal to or better than your Diamond Tier benefits!
Which tier and duration are right for you?
Pay for the whole year – any tier – to get two months and one "I Am T3" t-shirt for free!*
*As soon as this program has accumulated enough to fund the initial print run of shirts. Check our progress toward this goal near the event calendar.
Update 11/20/22: We are working with a local artisan to get our initial batch of shirts. We hope to have them sometime in the first quarter of 2023.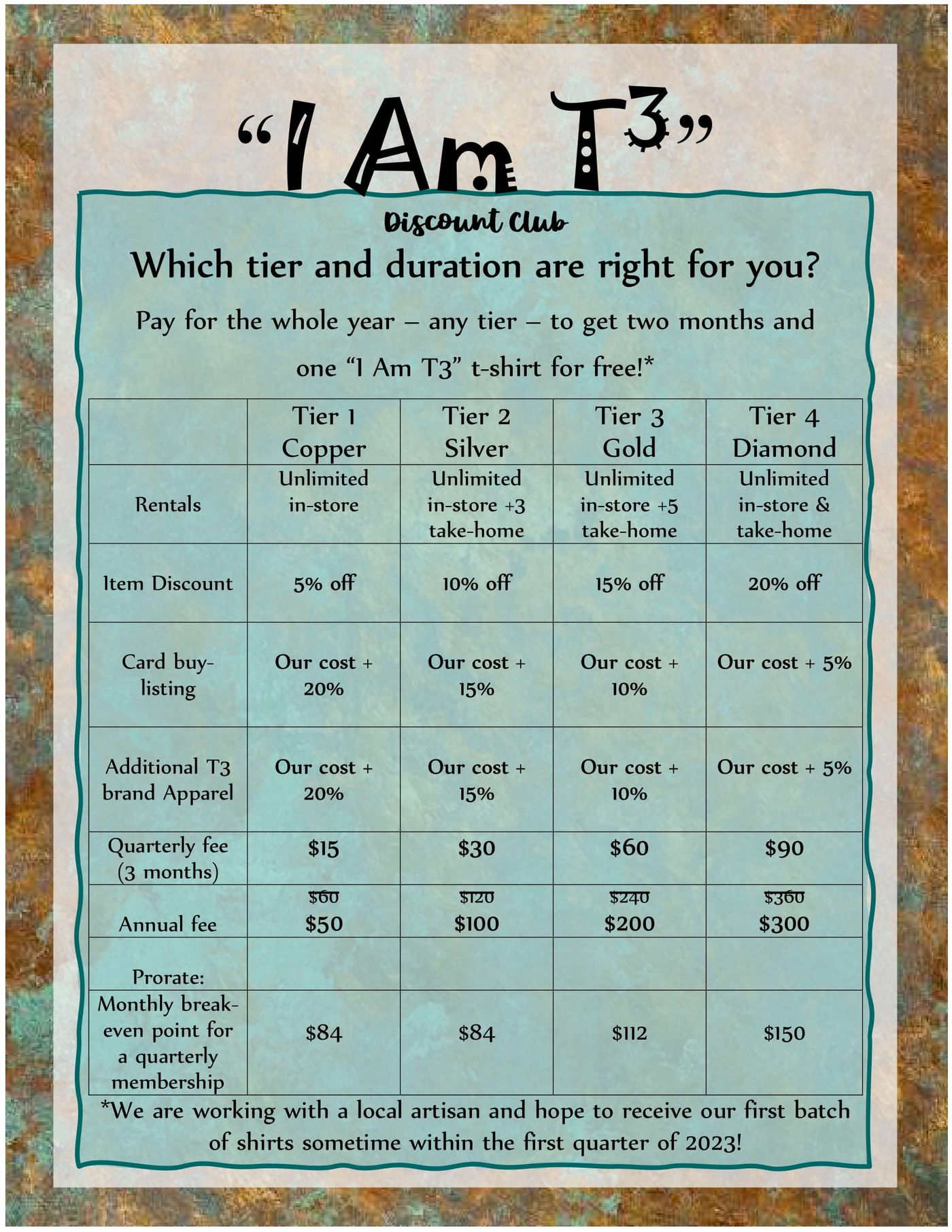 "I Am T3"
Discount Club Tier Information